Lets start with SEO Marketing definition so, if you are a novice to seo, then this may clear a few things up for you. SEO is a term known by most small businesses but misunderstood. And there is good reasons why! Each marketing company has their own rules on what they can do to help you. It may or may not be the right solution for your company and unfortunately you are at the mercy of these selling techniques, or tech talk you don't understand, that give our industry a bad name. Things I hear from potential clients are, I tried SEO and it got me nowhere. Well that can be true if you hired a company who doesn't give you a clear idea of expectations based on your goals or isn't really that good at SEO Marketing.
Lets clear this up for you right now! SEO is short for search engine optimization. So basically we optimize your business website for search engines. We improve the content, the programming code that is used on your site, add more code to improve load speed, improve internal, external and inbound links, build tools into your site to see progress and make adjustments each month to better place on search engines. I want to be clear about this next comment, our goal is to beat your main competitor and not search engines! We only apply good SEO, white hat techniques, and do not take short cuts with what the industry coined the phrase "black hat" techniques. Another stupid geek term but that's what they called it!
Think of SEO like a car.
You buy this nice car or truck and its now sitting in front of your house. It looks great! But how does it get to where you want to go? You put gas in it! And it can take you places you want to go!
Replace the term car & gas with website & SEO:
You buy this nice website and it is now sitting out there on the Internet. It looks Great! But how does it get to where you want to go? Put SEO in it ! And it can take you places you want to go!
The type of SEO Marketing we offer can be broken down to 2 areas:
Local Search
Organic Search
Local Search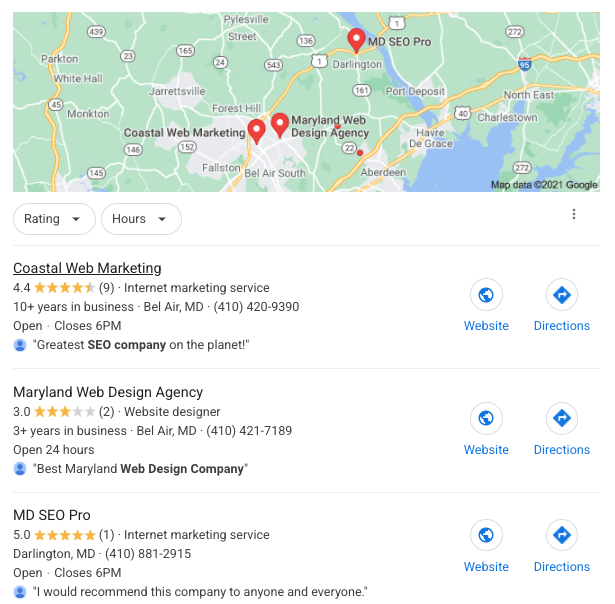 For Local Search, think coverage on a local area, 1-40 miles. It can be less or more based on how well the marketing is implemented, how dense your population is, how competitive your market is and how long that business competitor has been marketing. For example, your competitor may be doing very well on search engine placement and you jump into the seo game. Just because you started seo today doesn't mean tomorrow or next week you will be #1. Think about it! Your competitor may have been doing SEO for the last 5 years and you now have to catch up to them. That's very possible you can catch up then beat them, but it will take time!
The goal is to get your targeted search terms on page 1, and ideally in the top 3 listings. When you get to number 1 then you hit the jackpot!
Another example here: When the search has a purchase or hiring intent behind it, most people would search for a phrase relating to what they need. A possible search term might be "drain cleaning near me" or "plumber in MYtown".
Google provides a map and a 3-pack before listing the rest of the organic seo search results.  This information can include hours, the address and phone number, photos, videos and a star rating based on Google reviews. Local search marketing can see show growth in 1-3 months.
Google has three main criteria for local search ranking:
Relevance: How relevant are your products and services to the search query?
Distance: How close are you to the person doing the search?
Prominence: Do you have a lot of good reviews? More reviews and 5 star ratings may or may not place you higher.
Organic Search
Organic SEO has the most clicks with getting about 49% of the leads. The challenge is that there are over 200 factors Google uses to rank web pages. We put those 200 items into 5 categories to help us simplify SEO and make it easier to explain to our clients in non-technical jargon.
Content Marketing benefits you when you have the right mixture of text, pictures, BLOGs and videos to help your search relevancy.
Web site and web page optimization helps search engines catalog your site pages correctly.
Back link building improves your linking popularity for your web address.
Reputation Management shows a potential buyer if you have a good track record with past clients.
Engagement & Social Media provides a measurement to gauge your popularity.
The bad news for organic seo is that Google places national competitors in the top 10 listings, based on the search phrase. The good news is that they do not list the weaker local websites in that area. Why is that important? Because with providing the right content, site and page optimization, back links, reputation and engagement, you could be at the top of that page. If you are in the top 3 listings you have a much greater change of getting them to your website or to call you. If you are not in the top 7 listings then you will more than likely not get that business. Google estimates SEO should take 4 to 12 months to see results in an organic SEO campaign.
So what is a good mix of your marketing money?
Pay per click gets about 5% of the web leads. Local Search gets about 46% of the leads and Organic SEO gets about 49% of the leads.
Should I use pay per click (ppc) for my business?
Maybe. There are plenty of reasons to use this service and others that may override your decision. Pay per click can get you at the top of search engines quickly but as soon as you stop paying your listing goes away. The way it works is that if someone clicks on your ad then you get charged immediately. That doesn't mean they bought anything and each click can be expensive when not enough people are buying after they clicked on your ad. Pay per click shows your ad immediately shortly after they approve your ad.
Contact Us
Contact Coastal Web Marketing for more information about what mix of SEO marketing services make the most sense for your business type and your budget. Call 410-420-9390 or fill out our online contact form.