SEO Frequently Asked Questions
If you're reading this, we're going to assume you know some of the basics of search engine optimization (SEO). If you need a refresher, check out our recent blog, Small Business SEO: A Beginner's Guide and visit our other SEO pages.
Here, we will discuss who we work with, how we do what we do, and SEO cost. These are some of the most frequently asked questions we get, and our answers.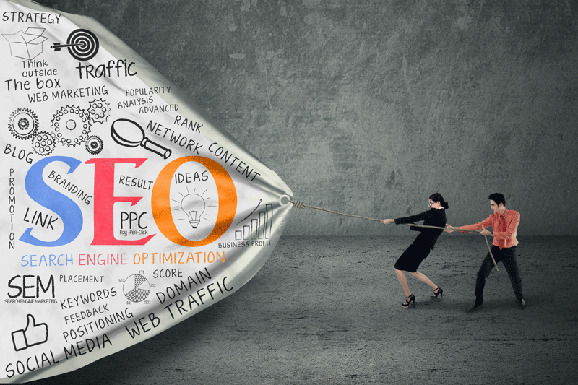 What is SEO Marketing?
SEO marketing is online marketing using your website as a basis. We optimize your website so that search engines (Google, Yahoo, Bing, etc.) will recognize your web pages and place you high in the search engine results pages (SERPs) when someone enters a query looking for the products or services you offer. By using SEO, you are able to effectively market your business to people who are already looking for what you have to offer.
Ideally, you want to be on page #1 for keyword terms that relate to the services you provide. That's because the majority of searchers don't bother going to the second page of results. And eventually we plan to get you in the Top 3 positions where your local competitors are listed.
As a business owner do I need SEO Marketing?
Maybe! If you are so busy that you cannot possibly take on new business, then no, you don't need SEO. If you want to use your website to grow your business or fill holes in your appointment schedule, then yes, SEO may be a good fit for you. And our SEO Plans can bring you more business!
What is the difference between local SEO and Organic SEO?
Local is your listings on local website directories and a search engine's local search area. For Google, it is near the top of the search engine results page that has a map and 3 listings showing. Your Google My Business (GMB) account can also help you with local search. Local SEO is very important if you have a defined service area of several cities or counties.
The organic SEO listings are below the local listings and there are at least 10 organic listings on page #1. Your website may appear in both the top local and organic listings if we're doing everything right.
What is a keyword phrase?
A keyword phrase is what someone types in a search engine to find the services or products they are interested in. For example, someone might type in "need a plumber to install a new hot water heater". Or they may type in "plumber in the baltimore area" or they may just type in "plumber near me". Each one of these phrases will place different results on every search engine.
We use industry tools to see what phrases people are really looking for. We then optimize for specific phrases that you can be competitive for. We set it up so you have a unique keyword phrase on each web page. In this way, you can cover all of the ways someone might search for your services.
Do I need to be on page #1 for my keyword phrases?
If you want to get more business then YES! There are usually hundreds of competitors in Local Search for a specific keyword phrase and millions of competitors in Organic search. And statistics show the majority of searchers don't go beyond the first page to find what they are looking for. It is a challenging task to get you to the top page, but it is definitely doable. But it takes working with an SEO agency like Coastal Web to make it happen.
How do you get my keywords on page one?
We start by focusing on one phrase then add a 2nd phrase, 3rd, 4th, and so on. The longer you pay for SEO the more keywords we get you to perform well on. We may create new content for your website, consolidate content, or delete some altogether.
Why should I work with Coastal Web Marketing over other SEO companies?
Mike Parr, the owner of Coastal Web Marketing, has been providing SEO Services since 2001. His company has been listed as a TOP SEO Agency for multiple years. AND we are half the price of most competitors.
We know the Baltimore area, and work mainly with businesses in Harford County, Baltimore County, and Cecil County, but we're open to working with small businesses in other areas.
How much does SEO cost per month?
You can utilize our services for as little as $50.00 per hour, while most of our SEO competitors are charging $125.00 to $175.00 per hour. The investment is well worth it. If you get just a few new customers, you're more than paid for any SEO costs.
How can Coastal Web's prices be so cheap if you are that good at what you do?
I used to charge $100.00 per hour for SEO when I had an office with 12+ people working every day. Over the years I learned that I take in more profit with a work-from-home staff, that is paid based on billable hours and production versus a 40-hour work week mentality. Then I pass the savings onto my customers.
How many hours of SEO will I need per month?
The more hours you spend the faster we can get you placed higher on local search listings and organic listings in places like Google, Yahoo, and Bing! We market to 2 areas on search engines, local search and organic listings. Local search is usually in the 3-to-6-month time-frame and organic is in the 9-to-18-month time-frame. The sooner you start the faster you get there! That timing depends on a few things:
• How much SEO you have done previously (if any)
• How much SEO your competitors have done
• Your physical location (small vs large town)
• If you are focused on a small local area or nationwide
• How many competitors you have in your area
• If your website SEO-Friendly
• How fast you want to get to the top of the SERPs
What is the actual cost of SEO each month?
Our plans run anywhere from $400.00 per month to $ 2,400.00 per month, depending on your business.
Can you give an example of what I should be paying for SEO each month for my business?
It is hard to come up with an exact price as there are many factors and we would need to know your goals, and your budget, then we would perform a couple hours of research. Once that is done, we can get you a couple options.
OK, I'm interested in talking about SEO for my website. What's next?
Call us at 410-420-9390 or use our contact form to set up a FREE SEO Analysis. We'll use industry tools to analyze your website as well as your main competitors, and go over all the results with you, showing areas where we can improve your online presence. If you sign up for an SEO plan with us, we can get started right away.