Web Marketing
Web marketing is just that – marketing your website. Instead of using direct mail or billboards to market your business, web marketing is all done online through digital marketing, using things such as ads on Facebook or via email. Who better than a professional digital marketing company to help you take advantage of all the opportunities Digital Marketing has to offer? Most small businesses do not have the necessary skill set or have a trained, educated employee dedicated to solely marketing their website. Coastal Web can fill that void.
With Web Marketing, we can help generate more business for your company. Using our Search Engine Optimization - SEO, Social Media marketing programs, as well as Digital Marketing plans, its easier than ever be noticed by prospective customers and easier than ever to be found on Google. We work with you to ensure that you understand the whole process and that you are happy with our service.
Our digital marketing and web marketing team can help you market your business in a way that appeals to potential clients. Inbound marketing helps you find your audience online and engage them in a way that builds trust and loyalty and also helps convert them into paying customers. Inbound marketing only works if you take the time to answer some key questions, so we can help you create a targeted web marketing strategy. Questions to ask yourself include:
What are your goals for your inbound digital marketing program?
Who is your audience? Create a buyer profile and determine their needs.
Is your website currently working to attract qualified buyers?
How are you currently generating sales leads and are they high-quality and qualified leads?
How are you currently managing your sales pipeline and your sales cycle?
If you can't answer these questions, we can help you set goals and create a buyer profile before creating an inbound digital marketing strategy.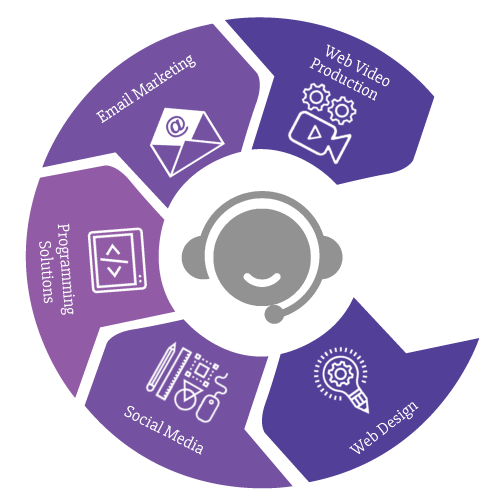 Inbound digital marketing focuses on turning your website into an informative and engaging site that people want to visit. Studies show that 80-90% of people perform research online before buying a product or service. When they're researching your product or service, you want them to find the answers they need on your website. Think about answering "How to" questions with your web content and web videos. Think about answering "Why" questions. Think about answering comparison questions, like "wood decking vs composite decking". If your web content answers people's questions, they will be more likely to trust you as an authority and share your website or social media post with others. They may also contact you for more information or a quote. If you're an e-commerce site and your prices are competitive, they may make a purchase right then and there.
Before ongoing digital marketing as well as web marketing can be implemented, the basics of your website have to be taken care of. This can include website optimization and redesign, search engine optimization - SEO, landing page development and more. Your website has to load quickly, be easy to navigate and attractive to the eye, to encourage visitors to explore. As a digital marketing and Search Engine Optimization - SEO company, we can handle all of those issues. Our marketing team can help you implement a web marketing strategy that helps you promote your business and bring in new clients. And we provide you with the web marketing analytics to show what's working and what could be improved.
So, you have a business website, but you don't understand Search Engine Optimization - SEO. Search Engine Optimization - SEO is the most cost-effective way to increase visitors to your website. If you are not signed up for an SEO program, that is an effective SEO program, your competitors will rate higher than you for the main services that you provide. In other words, you are losing business.
The best solution is to hire an expert. Let us help you get the search results for your business. We offer many effective digital marketing and web marketing services that can help your business place well on Google searches. Google has an estimated 200 ranking factors that are grouped into approximately 40 elements. We then break it down to 6: Local Search, Site Content, Web Coding, Links, Reputation, and Social Popularity. Often daily, your business may receive calls and emails from unknown companies informing you about how horrible your website is performing on Google. These companies may also claim that they can fix everything that is wrong for a cheap price, only if you sign up today. Basically, this is a form of high-pressure scare sales tactics. When they call, hide your wallet! This is usually someone from out of town who is just trying to pull in money from you and your business.
We understand Search Engine Optimization - SEO information can be overwhelming and confusing. Here's how we can help you understand the performance of your website:
SEO Analysis. We'll break down the analytical data in a way that's easy to understand.
SEO Content Writing. We perform thorough keyword research for your business and your industry, ultimately finding the keywords that will help your website get more traffic. Good SEO writing will help you place higher in the Search Engine Result Pages (SERPs).
Blog Writing. Google rewards websites that frequently add new content. Blogs are an easy way to implement fresh content for your visitors.
Website Traffic. Increasing website traffic is the first step to generating more business. We focus on ranking, visitors, and call-to-actions. Our Digital Marketing and Web Marketing efforts will make a difference.
"SEO leads have a 14.6% close rate compared to only 1.7% for outbound leads such as print advertisements."
(source: https://www.business2community.com/)
Our Search Engine Optimization - SEO process is easy. First, we'll start with a free SEO analysis to determine if the program is a good match for your business. Next, we will discuss your business and define clear goals. Based on your goals, we will perform additional research on your business and your competitors. Then, we will implement ongoing improvements to your on-page and off-page marketing.
We offer several plan options that are affordable for most small business budgets. Our monthly reporting allows you to see your SEO progress on a regular basis. Our staff communicates with you and can explain technical details on your personal knowledge level.
To sign up for your free Search Engine Optimization - SEO analysis, click here.
Want to learn more about our services?