SEO Web Marketing
Coastal Web Marketing is a small SEO marketing company based in Harford County Maryland, which is just north of Baltimore, but we serve clients in Delaware, Pennsylvania, DC, Virginia, Ohio, Arkansas, Texas, Alabama and Florida. We don't aggressively search for web marketing clients outside of MD but we get referred out because we are pretty good at SEO Marketing.
Why hire Coastal Web for SEO Marketing? We are a small customer focused business that takes on customers that we believe we can help. We also only work with 1 or 2 business types in a geographic area. Our goal is for us to beat your competitors and NOT hire them to compete against you!
Increasing traffic to your website is the first step to generating more business but that's not the only focus.
Search Engine Optimization, also known as SEO, is the most cost-effective way to market your business online. Period, end of story! All business owners know you need a web presence to help your clients see that you exist in the web marketing arena! Whether you need a basic template website or an effective "marketing machine" type website depends on your goals.
Lets get a better understanding of digital marketing first so you know what is possible in online marketing.
Internet Marketing (online marketing, digital marketing, etc.)
Web Site

Template Design
Custom Web Design
WordPress (CMS) versus HTML

Web Marketing

SEO Marketing
Local Marketing – Google My Business
Pay Per Click Marketing

Video Marketing

Customer Testimonial
Product or service presentation
Facebook ad

Email marketing

Existing clients
Paid mailing lists
Newsletters

Digital ads

Facebook
Google
Yelp
Industry related website
Online yellow books

Social Media Marketing

Facebook
Twitter
LinkedIn
and many more
As you can see from above there are lots of ways you can spend time and money on getting your message heard. But what is the most effective?
A website: You definitely need this if you own a business.
Web marketing: if you have a marketing budget, this is the way to spend your money effectively.
Video Marketing: Absolutely! It can help humanize your website and get your message out.
eMail Marketing: A definite yes for your own customers.
Digital Ads: Maybe depending on your goals and your budget
Social Media Marketing: Maybe depending on your goals, your budget, your time and your type of business.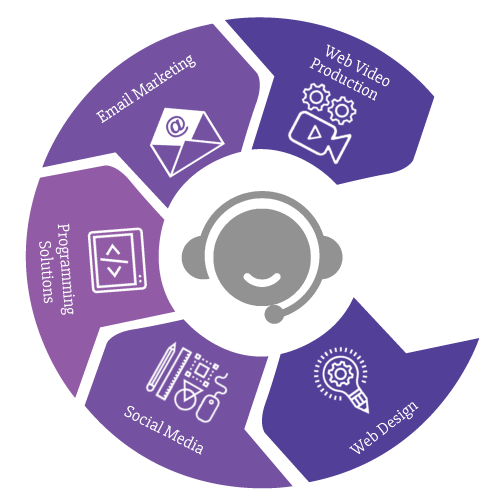 Want to learn more about our services?