Local SEO Services for Small Businesses
Running a small business is hard. We get it. You work long hours and wear a lot of hats to keep your business running smoothly and attract new customers. But your marketing dollars can only go so far. Did you know that one of the most cost-effective ways to bring in new business is to utilize local SEO Services?
It's true. And by local SEO services, we don't mean working with a local SEO company, although that has its benefits. Rather, we mean local SEO as a specialized search engine optimization service that focuses on helping local customers find your website when they do a search for things like "plumber near me" or "dentist in Baltimore."
You get the idea. Competition can be fierce, and you need to use all the tools at your disposal to get ahead and stay ahead of the competition. If you serve customers locally, whether from a brick-and-mortar location(s) or as a service provider with a defined geographic service area, you can benefit from our local SEO services.
If you're new to the idea of SEO, you might want to read our SEO Beginner's Guide.
What Local Search Results Look Like
To understand what we're talking about, look at the image below. We Googled Harford County SEO Services. The first 3 results next to a map are the local search 3-pack. Google comes up with these based on your location, or if you include a location in your search. The 3-pack are the websites that are most relevant to your search, and that are undoubtedly optimized for local SEO.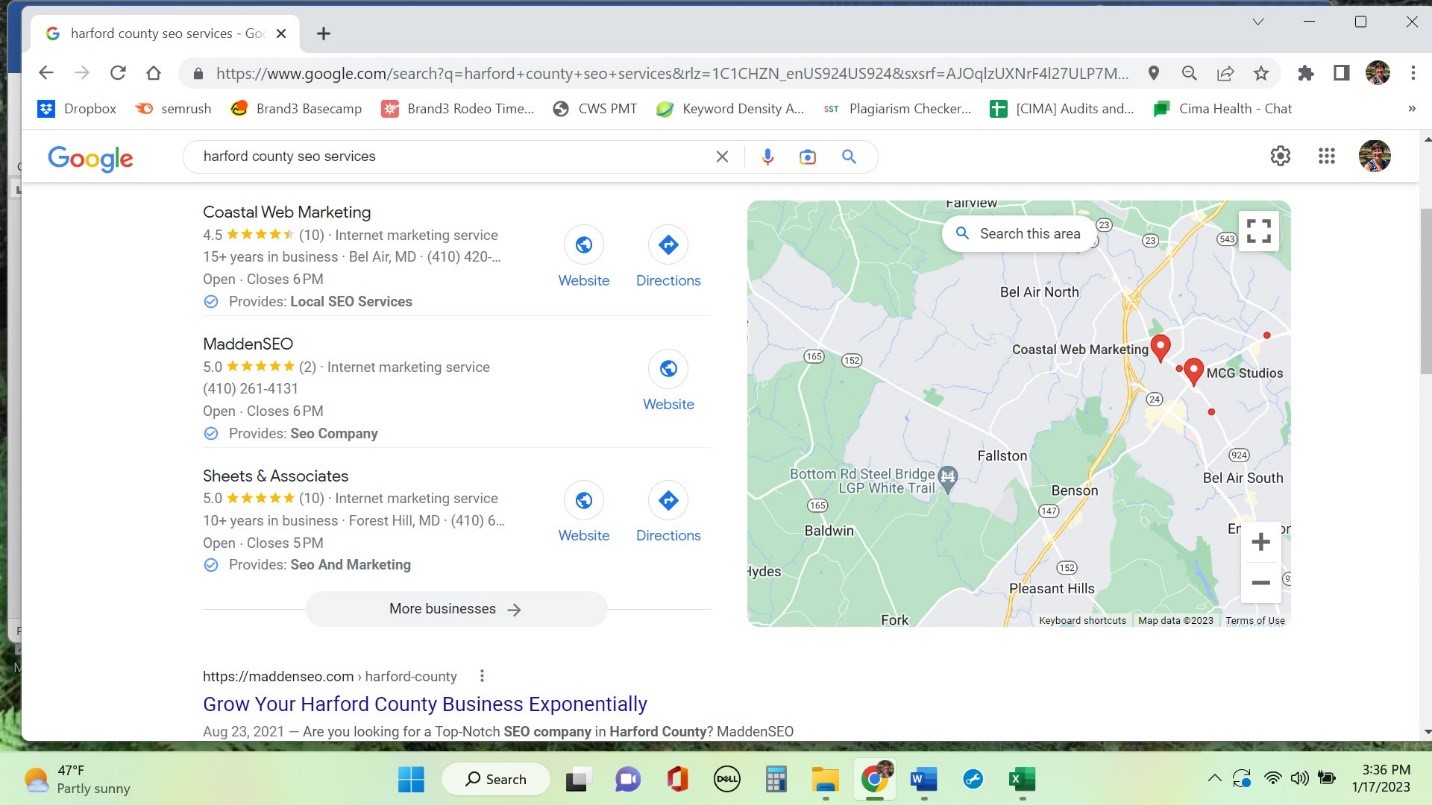 When you Google the services you provide and include your county or town, do you show up in the 3-pack? If not, local SEO services may be of benefit to you.
The Importance of Optimizing Your Website with Local SEO
Let's check out some statistics from Think With Google that show why local SEO is so important for your small business.
30% of all mobile searches have local intent.
76% of people who search for something nearby on their smart phone visit a business within a day.
28% of local searches for a product or service result in a purchase.
"Near Me" searches grew by more than 200% between 2017-2019.
Chances are good that your competitors are utilizing local SEO services, especially if they show up in the local 3-pack at the top of the search results page.
How We Implement Our Local SEO Services
Once we meet with you and learn about your business, your goals, investigate your competitors, and do relevant SEO keyword research, the fun begins. This can include:
Adding or deleting pages from your current website
Updating or adding new content with a local focus
Changing the navigation of pages on your website to highlight services and make it easier for a user to find what they need
Ensuring your website has accurate Name, Address, and Phone (NAP) information
Optimizing title tags, meta descriptions, and image alt text to include relevant key phrases as well as geographic location(s)
Optimizing the speed of your website
Ensuring your website is mobile-friendly
Ensuring you appear in relevant local directories with the correct NAP
Claiming and optimizing your Google My Business (GMB) account (now called Google Business Profile
Seeking out relevant local and industry backlinks
And more
SEO, and more specifically, local SEO, is not a one and done thing. After the initial implementation, you should be prepared to wait a few months to see tangible results. Then, we recommend monthly SEO services that can include things such as running analytics to see what is working and what needs improvement, as well as blog writing and creating posts for your GMB listing.
Do I Have to Write My Own Content?
No. In fact, we recommend that you utilize our SEO content writing services. Our SEO content writer has years of professional writing experience, with a focus on SEO writing. After researching appropriate keywords and researching your industry, they will write clear, easy to understand, and informative text for your web pages. They can also write your blogs on an ongoing basis. You have final approval of any text that goes live on your website.
What Do Your Local SEO Services Cost?
You can boost your business by using our local SEO services for as little as $50.00 per hour, while most of our SEO competitors are charging $125.00 to $175.00 per hour. The investment is well worth it. After attracting just a few new customers, you've more than paid for any SEO costs. Our affordable SEO packages run anywhere from $400.00 per month to $ 2,400.00 per month, depending on your business, how big your town/city is, and how competitive your industry is.
We're able to offer lower SEO pricing than our competitors because we use an experienced team of work-at-home SEO and web design specialists rather than maintain a full-time staff with benefits. Our independent contractors like it this way, and you benefit from cost savings.
For answers to more of your local SEO questions, visit our SEO FAQs page.
Harness the Power of Local SEO Services to Boost Your Business
If you're interested in taking on the competition and getting into the Google Map Pack, we can help. We've been helping small businesses get more local traffic and convert traffic into customers for more than 10 years. Most of our clients are in Maryland, but we serve business owners in other states as well.
We'd be happy to meet with you to discuss your business goals and provide you with a FREE SEO analysis, that includes an analysis of your website as well as your top competitors. Call us at (410) 420-9390 or use the contact form and we'll be in touch.