How Online Reviews Can Help (or Hurt) Your SEO Efforts
Your current customers and prospective customers are talking about you online. If you're a savvy business owner, you're monitoring and participating in the conversation. Reviews have become an important part of SEO marketing. With people searching for things like "Company X reviews" and "best widget provider near me" you need to have reviews available for people to see, and you need to have a 4-5-star rating.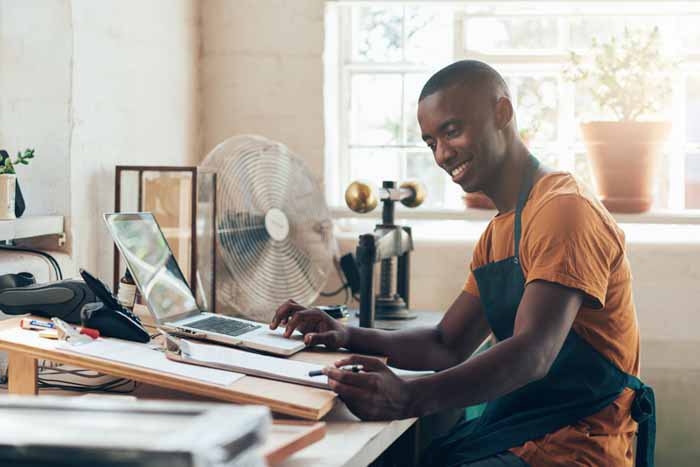 Keep reading to learn why getting reviews and how you respond to them is so important.
Online Review Statistics
There are statistics for everything, and SEO marketing is certainly no exception. There are statistics having to do with how fast your website loads, statistics on how SEO beats out PPC, bounce rate statistics, and of course, review statistics.
First, it's important to know that 97% of people go online to do research before buying a product or paying for a service. With a wealth of information at their fingertips, today's customers are better informed than ever.
If a prospective client is searching for your products and services and your name comes up, if they are about to drop more than a few dollars, they are going to check out your reviews. Why is that important?
Because:
• 93% of consumers say reviews influence their buying decisions.
• 87% of consumers read online reviews of local businesses.
• 91% of people between the ages of 18 and 34 say they trust online reviews as much as personal recommendations.
• Only 48% of people would consider hiring a business with less than 4 stars.
• 73% of people only pay attention to reviews left in the last month or so.
• 68% of people are willing to pay up to 15% more for the same product or service if they believe they will have a better experience.
Source: BrightLocal
Encourage Clients to Leave Reviews
More reviews help increase your brand awareness, and visibility in local search results, both of which are tied into your overall SEO efforts. And by encouraging satisfied customers to leave online reviews, you are organically building your reputation. You can ask people directly to leave a review, request they leave a review through a follow-up email, print the request on an invoice, etc. And the good news is that 77% of people are willing to leave a review if asked.
But you need to continue requesting reviews, because of the statistic above on the importance of recent reviews. And don't pay for reviews. Let people leave good reviews because it's how they feel, not because you bribed them.
Responding to Reviews
But your work isn't done once a customer writes a review. You need to set up notifications to that you see within 24 hours that someone has left a review. That's because you need to respond to each and every review. This is not only good customer service, but it shows prospective customers that you are responsive.
Responding to Positive Reviews
Responding to positive reviews is easy. You say thanks for choosing your company, and what a pleasure it was to work with them. Or "Thanks for the kind words. We hope you enjoy your new pool." Try and leave something personal to show your customers aren't just a number.
Negative Reviews
Responding to negative reviews takes a little more time and effort, but it's worth it. If you're able to resolve an issue, many times the person will leave a follow-up review. When someone leaves a complaint in a review, look into it before responding. Post a response that you tried calling them and left a message, or invite them to email or call you to see how the situation can be resolved.
Be on the lookout for fake reviews as well. Sometimes competitors will pay people to leave negative reviews. Sad, but true. If you never had a customer by that name or from that town, say so. Say they must have you mistaken for another company. You may be able to get fake reviews taken down, but you cannot get negative reviews taken down. That's why it is important to try and resolve the situation to the customer's satisfaction.
Important Review Platforms
There are a lot of review platforms out there, but we'll discuss the Big 3: Google, Yelp, and Facebook.
• 81% of people visit Google to research local businesses and read reviews.
• 59% read Yelp reviews as part of that research.
• 49% read reviews on the company's Facebook page as part of the research.
Source: BrightLocal
Google My Business (GMB)
Did you know that 66% of online reviews are left on Google My Business (GMB) accounts? This is one of the big reasons it's so important to claim your free GMB account. You control what your profile says about your company, and you ensure that all of the information about your services, physical location, hours, and contact information is correct.
But you can also utilize your GMB account to build a 5-star reputation, by encouraging customers to leave reviews, and responding to both positive and negative reviews. When a customer searches for you by name and sees a 5-star rating in the GMB listing, they are more likely to contact you.
Yelp
Did you know that Yelp reviews on your area of expertise frequently appear n the first page of search results? Go ahead, do a search and see what we mean. Enter "plumbers near me." We'd be money that Yelp is somewhere on that first page. That's because Yelp is the #1 review site. This is another reason that reviews are important in SEO. Google figures people want to see reviews to help them decide who to hire.
You need to make sure you claim your business listing on Yelp, and keep it up to date, as well as responding to all reviews. By encouraging customers to leave reviews on Yelp, you increase your chances of making the "10 Best list" for your service.
Facebook
Many people will leave both positive and negative reviews on a company's Facebook page, yet not leave a review on GMB or Yelp. That's because you have to sign up for an account to do that. For people who already have a Facebook account, it doesn't require them to provide additional information to anyone.
You can encourage customers to leave reviews on both GMB and Facebook, because each set of reviews may be reaching a different audience.
And of course, if you're in a niche industry such as the medical or legal field, you'll want to encourage reviews on industry-related websites. For home services providers, Angi, HomeAdvisor, and YellowPages.com are also good review sites to claim your business so you can deal with reviews as they come in.
Staying Out of Politics on Social Media
It's a shame we have to say this, but as a business owner, you need to be VERY careful what you post on your company and personal social media pages. If you have an opinion on politics, be careful how you express it online. Don't share memes or original posts that can be seen as racist, sexist, homophobic, or promoting violence or disrespect.
We've all see companies inundated by negative reviews because the owner or someone affiliated with the company posted something that went viral.
Even if your personal social media accounts are private, someone can take a screenshot of what you said and use it against you. The publicity can cause hundreds, if not thousands, of negative reviews from people who don't know anything about your business.
RELATED READING
Small Business SEO: A Beginner's Guide
How to Choose the Best Local SEO Company for Your Business
Schedule a FREE SEO Analysis
Not satisfied with how many leads your website is bringing in? We can help. Call 410-420-9390 or use our contact form to request a FREE SEO Analysis of your website. We'll take a deep dive into your website, check out what your competitors are doing, and make some basic recommendations.
If you sign with us as your SEO company, we'll go to work quickly implementing SEO best practices on the back end and front end of your website. It will be up to you to handle responding to reviews, but we hope we've impressed upon you how important that is.
We work with small businesses in central Maryland, with a focus on Baltimore County, Harford County, and Cecil County. We look forward to working with you!